Table of Contents
Airence support page
Attention
Be carefull due to a hardware change it is NOT possible to combine older versions with units produced after 01-01-2022.
V.10 Main
V.10 Extender
01-01-2022
POWER SUPPLY CHANGED TO 12 VOLT INSTEAD OF THE EARLIER USED 36 VOLT
MAIN V.10 and EXTENDER V.10 ARE NOT COMPATIBLE WITH OLDER VERSIONS.
Connecting a older to a newer units will damage the older unit.

Install as Administrator


In order to perform an Firmware update you'll need to set the unit in bootloader mode

To set the unit in bootloader mode:
Take off the Power off the unit

Hold down the "Encoder" (Data) of the "Control surface"

While holding down the "Encoder" (Data) you'll have to "Power on" the unit

Release the "Encoder" (Data) after 5 seconds

The Unit will show some random LED's as there is no software loaded at this moment

If you receive a Error 740, it means that it requires elevation to run.
Meaning you must run it as administrator.
Try right clicking the command prompt and running it as administrator.



(For the Airence the AtLibUsbDfu.dll device in the device manager is shown as "Unknown Device")

(A) NOTE: This application requires JAVA 32-bits to be installed. Please download and install the latest version first


(B) NOTE: Some users still receive the error message: Firmware update failed! Make sure console is connected and in bootloader mode, they are probably missing the Microsoft Visual Studio drivers


(C) NOTE: Requires .Net Framework 4.0 installed
---
FAQ - Airence
Software
Installation instructions are available for
USB
Microphone input
Telco or Voip
Question: What are the Telephone Hybrid and Voip channel options and what can I connect to them?
Answer: Take a look at this picture: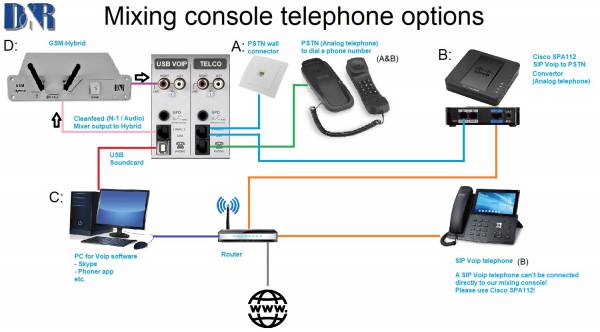 Question: How can I connect a (GSM) Hybrid to my Voip channel?
Answer: Connect the output from the Hybrid to the input of the Voip channel and the Cleanfeed output to the input of your Hybrid. Therefor you need to make a cable from the RJ11 connector to input connector on your hybrid:

Question: When I use the Hybrid the caller hears echo's and it influences the sound of my mixer?
Question: When I connect my mixer somewhere else, do I need to re adjust the R and C balance?
Answer: Every phone line connection is different and has a different capacity due to Line length and differences in Central units.
The N-1 and R and C balance are set at the factory to meet our phone lines.
When you unpack your mixing console you have to adjust the R and C balance to meet the specifications of your phone line.
So when you used "on the road" you'll have to adjust or at least check the R and C balance each time you connect a different phone line.
Instructions on how to set the R and C balance can be found in this .pdf: Airence N-1 and RC balance adjustments on location
Question: My telephone hybrid seems to have stopped working, how can I fix it?
Question: Due to higher Line and Ring voltages in some countries it can happen that resistors R17 and R18 where burned.
Answer: Instructions can be found in this .pdf: TELCO AIRENCE MEMO-R17-R18 modification
Question: I needed to change the Relay on the telephone hybrid but the voltage supplied is to low, how can I fix this?
Answer: Instructions can be found in this .pdf: Airence Telco Relay voltage
Question: How do I connect a Hybrid 1 to my mixer?
Answer: Follow the instructions in this .pdf document: How to connect a Hybrid1
Question: The incomming sound (Microphone) of my Voip channel isn't working, how can I solve this?
Answer: Microsoft is changing the Privacy settings to prevent for hacking in to the Microphone sound and listen to what you are saying. Check these settings: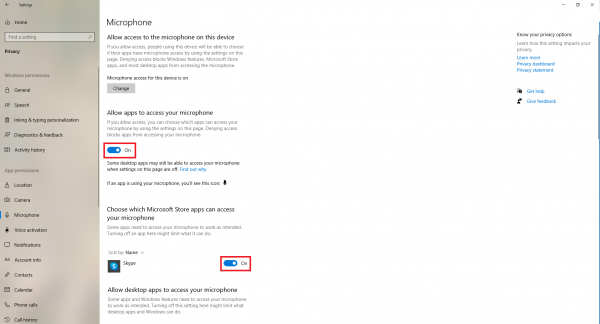 ---
On Air, Mic on, Fader start, GPO
Question: I want to connect my Fader start to my CD player, Turntable or other player, how do I have to connect this?
Answer: Instructions can be found in this webpage: Fader start instructions
---
Repair and Modification
Troubleshooting & Instructions
supairence/start.txt · Last modified: 2023/09/14 01:11 by jeroenbol
---