Table of Contents
Axum and Axite support page

URGENT : DOWNLOAD a BACKUP of your RACK CONFIGURATION on a regular basis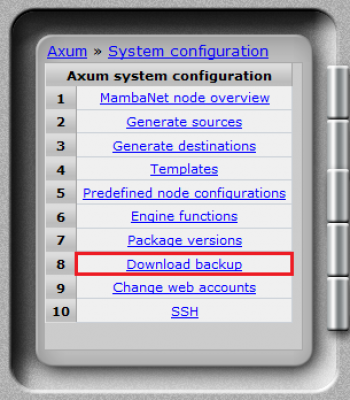 Users that have higher capacity Compact flash cards can experience error messages when trying to download the backup.
Don't click away the error message, browse to the download directory and rename the partial file to .raw.


Needed software (Install as Administrator):


Software
Windows 7
Windows 8
Windows 10
Windows 11
MAC OS X
Linux

Manual
& Info
Axum Remote App 2012
Ask D&R Sales department...
-
-
PDF
AES67/USB Card Windows Driver Signed
link
-
-
-
AES67/USB Card Windows Driver Unsigned
link
-
-
-
Axum Firewire Driver v4.1.4
link
Unknown
-
-
-
---
FAQ - Axite and Axum
Default Configuration
(Re)place a card
When placing a card in the Axum/Axite rack the card order is important for some cards !!!



Rack Power Supplies can be placed at Slot 1, 2, 4 or 5 (Double rack also the first positions with the extra connector)
The Rack ETX (Engine) has to be at Slot 20
The first DSP card has to be at Slot 16
A optional second DSP card has to be at Slot 17, thirth at Slot 18 and fourth at Slot 19
An Dante, AES67/USB or Firewire card has to be placed in a free Slot 17, 18 or 19

Other cards can be placed at random order in the other Slots.

Systems delivered after 05 May 2021 have a hardware firmware update which makes it possible to also place Dante, AES67/USB or Firewire cards at slot 12, 13, 14, 15. This update also makes it possible to use 32x mono in and 32x mono out for the Dante card.



Question: How can I transfer settings of an old card to a new one?
Question: How can I refresh the settings of an existing card or delete a removed or unused card/node?
Answer: Link: follow the instructions on this page.
---
Studio remote and GPI, GPO settings
Question: I want to connect my Fader start to my CD player, Turntable or other player, how do I have to connect this?
Answer: Instructions can be found in this webpage: Fader start instructions
---
Settings and functions
User levels
Dante card & AES 67 / USB card
Service and Repair
Instruction videos
| Title | | |
| --- | --- | --- |
| 0 - Introduction | EN | NL |
| 1 - IP Clock | EN | NL |
| 2 - Global Configuration | EN | NL |
| 3 - Mix Buss Configuration | EN | NL |
| 4 - Monitor Buss Configuration | EN | NL |
| 5 - Source Configuration | EN | NL |
| 6 - Extern Configuration | EN | NL |
| 7 - Destination Configuration | EN | NL |
| 8 - Talkback Configuration | EN | NL |
| 9 - Processing | EN | NL |
| 10 - Module Assignment | EN | NL |
| 11 - Module Configuration | EN | NL |
| 12 - Mix Monitor Buss Presets | EN | NL |
| 13 - Console Presets | EN | NL |
| 14 - Surface Configuration (Part 1) | EN | NL |
| 14 - Surface Configuration (Part 2) | EN | NL |
| 14 - Surface Configuration (Part 3) | EN | NL |
| 15 - Rack Configuration (Part 1) | EN | NL |
| 15 - Rack Configuration (Part 2) | EN | NL |
| 16 - Source Pools | EN | NL |
| 17 - Processing Presets | EN | NL |
| 18 - Users (Part 1) | EN | NL |
| 18 - Users (Part 2) | EN | NL |
| 19 - System Configuration | EN | NL |
| EXTRA - Source Hybrid Configuration | EN | NL |
| EXTRA - Studio NonStop with OnAir Buss | EN | NL |
| EXTRA - Source GPO Configuration | EN | NL |
| EXTRA - Switch Function Configuration | EN | NL |
| EXTRA - Change label in button of CRM Panel | | |
| EXTRA - Change label in button of Fader Panel | | |

supaxum/start.txt · Last modified: 2022/06/17 14:52 by support
---